Women's Aid Orkney can provide safe temporary accommodation, information and support for women and their children (if any) who are experiencing or have experienced domestic abuse regardless of their age, culture, disability, ethnicity or sexuality.
Our refuge is a lovely spacious new building. It has 3 self-contained flats, 1 of which has been adapted to ensure we can meet the needs of any women and children with disabilities. Each flat is fully furnished including a television, a DVD and a CD player.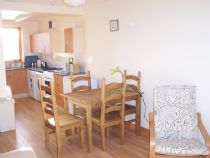 There is a support base where 1-1 support sessions take place.  There is also a computer on the ground floor that you can have access to.
On the first floor we have two additional support rooms which are used for support sessions and also women's group meetings which include motivational/confidence boosting sessions and children and young people's peer group sessions. One is fully equipped with resources designed especially for children and young people. There is also a kitchen where children and young people can cook and experiment with a variety of interesting and exciting resources.
The support workers are based in an office within the refuge where they operate an open door policy so that women and children feel at ease about approaching them.
Security is very important to us and there is a safe garden with a high fence for privacy, there are also security cameras around the outside and inside of the building and our doors are always security locked and have a buzzer entry system to further ensure your security.
If you are suffering from any form of Domestic Abuse and feel you need help, we will aim to provide you with accommodation. However, if at the time you contact us, there are no flats available in the refuge you can go on a waiting list and we can help you get emergency housing through the Housing Division of the Orkney Islands Council, where you can stay until there is a flat available in the refuge or you find alternative accommodation. You have a right to get accommodation on the same day as you leave your home because of domestic abuse. The emergency houses come fully furnished apart from a television, a phone and a radio. If you decide to go into emergency housing, a private let or stay with family or friends you can still receive support from our outreach worker.
Support workers will work closely with the residents during their stay at the refuge and both parties will be involved in the decision to move on to alternative accommodation based on risk assessment and readiness from the resident to move. Prior to moving out of the refuge, the support worker will have made arrangements for any additional support required and will have contacted any other agencies already involved in the residents care regarding contact details. The length of the stay will depend on each individuals needs, but is usually about 6 months. When women and children do move on from the refuge they will still continue to get support after the move.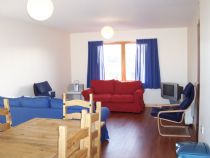 Women and their children will be warmly welcomed into a secure and supportive environment with staff on-site to offer you daily support by listening to you, giving you advice and providing you with information. However, staff also ensure that your right to privacy is respected at all times and they treat your flat as they would your home – they do not have the right to just walk in.
Our trained support workers at the refuge can help you with a wide range of issues which include:
Legal issues
Safety issues
Housing issues
financial advice, including benefit rights
Practical and Emotional Support
Supporting you in meetings with solicitors, other services etc
Offering a follow on service after you leave the refuge
Giving you advice on children's issues
You can have as much or as little input from the support workers as you feel you need. Our workers will always listen to you and never judge you and most importantly your privacy is respected at all times.
Our trained children and young people's support workers will give your child/children time to talk, support them with school issues, organise play sessions, peer support sessions and encourage them to get more involved in out of school activities. There are different ways that this type of support can help your child/children:
raises their self-esteem
helps them to understand the situation
improves their relationships with others
gives them more confidence
helps them understand their feelings
The children and young persons support workers play an important role in making sure that your child/children have a happy and positive experience while staying in the refuge.