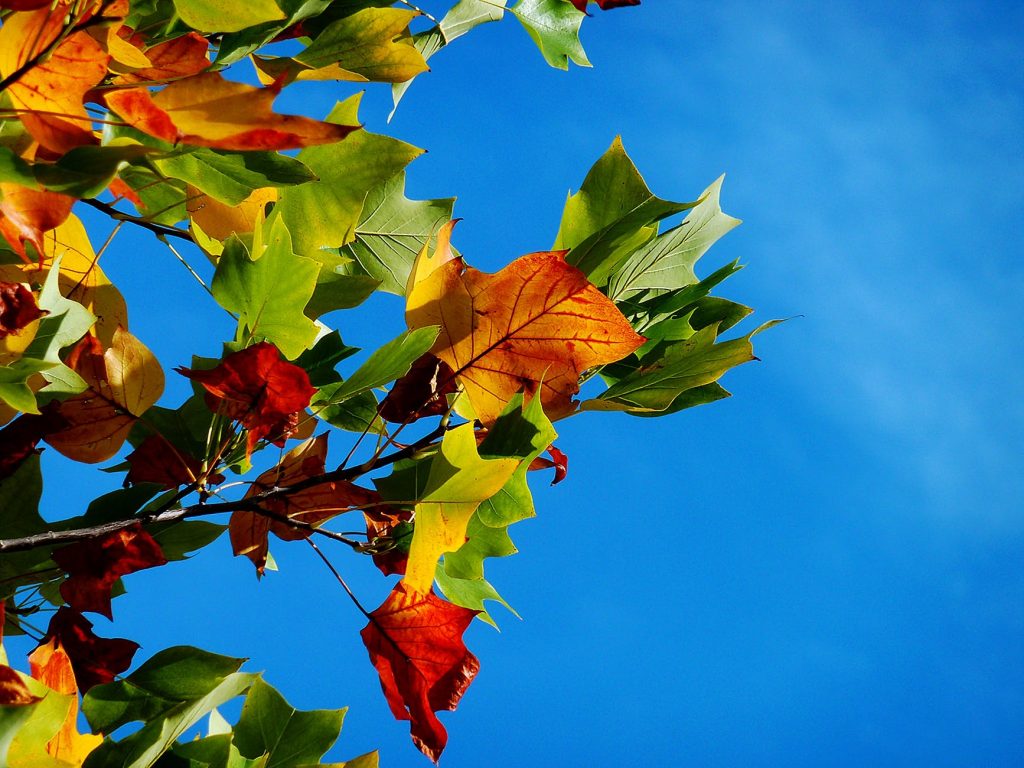 Welcome to our October newsletter. The seasons are marching on and so are we. Our CYP have been creepily creative this Halloween, we've more good news for CYP from the Scottish government and also from our very own high street! Hope you enjoy.
Women's Service
79 Active Cases | 138 Referrals
CYP Service
33 Active Cases | 44 Referrals
Service User Achievements & Feedback
Completing a form by herself
Getting out of bed and facing another day
Sharing her thoughts and feelings with others
Refusing to give in or give up
Ending unhealthy relationships
Attending online courses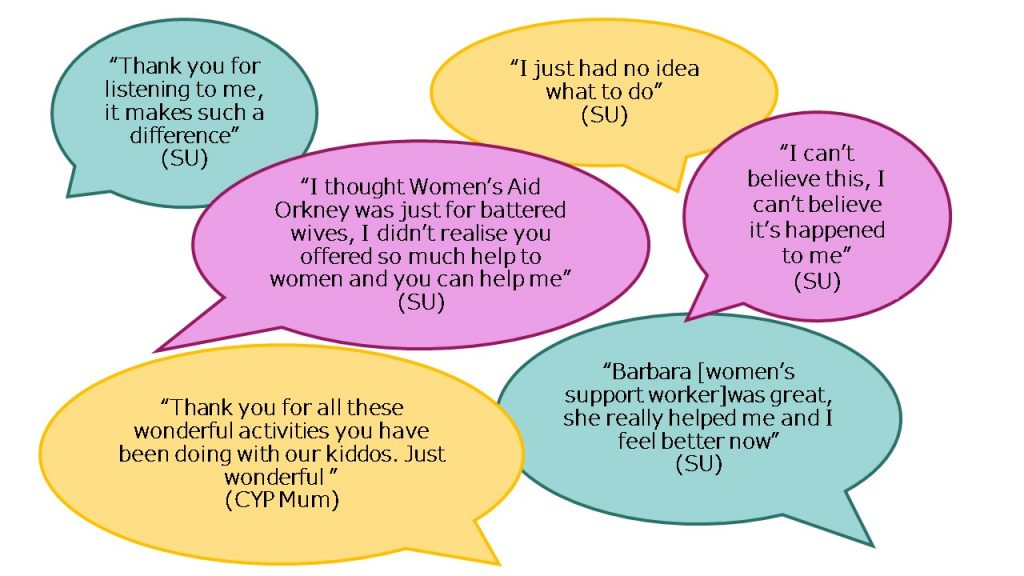 ---
Own My Life
Our pilot of the 'Own My Life' course is already nearly half way through, how time flies!  WAO is the first Women's Aid in Scotland to run this innovative course using Zoom.  The feedback from participants so far is overwhelmingly positive: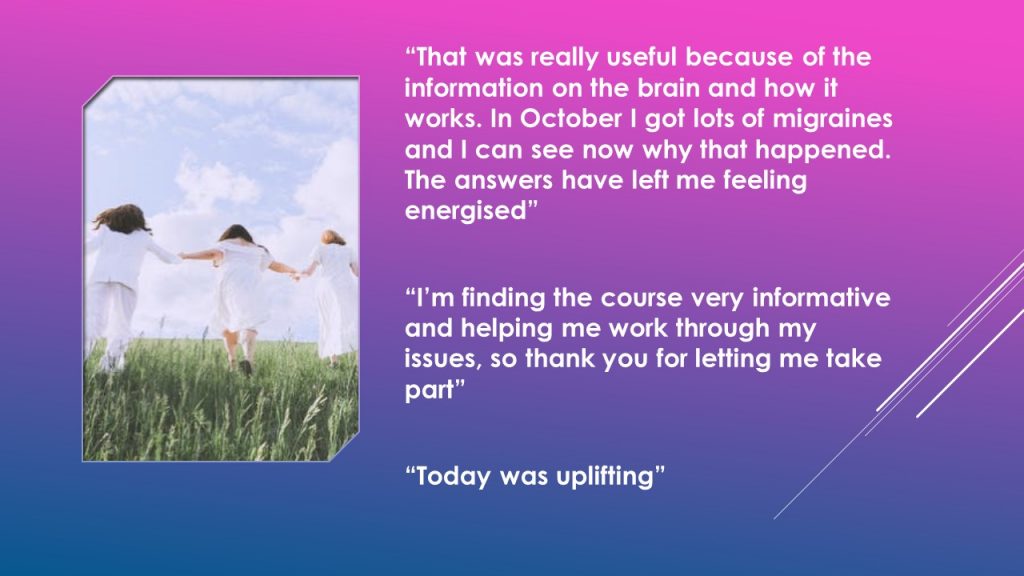 Women tell us that the course is helping them understand all sorts of things such as how the brain works and trauma, recognising a toxic relationship and the ways that society and the media affects their lives.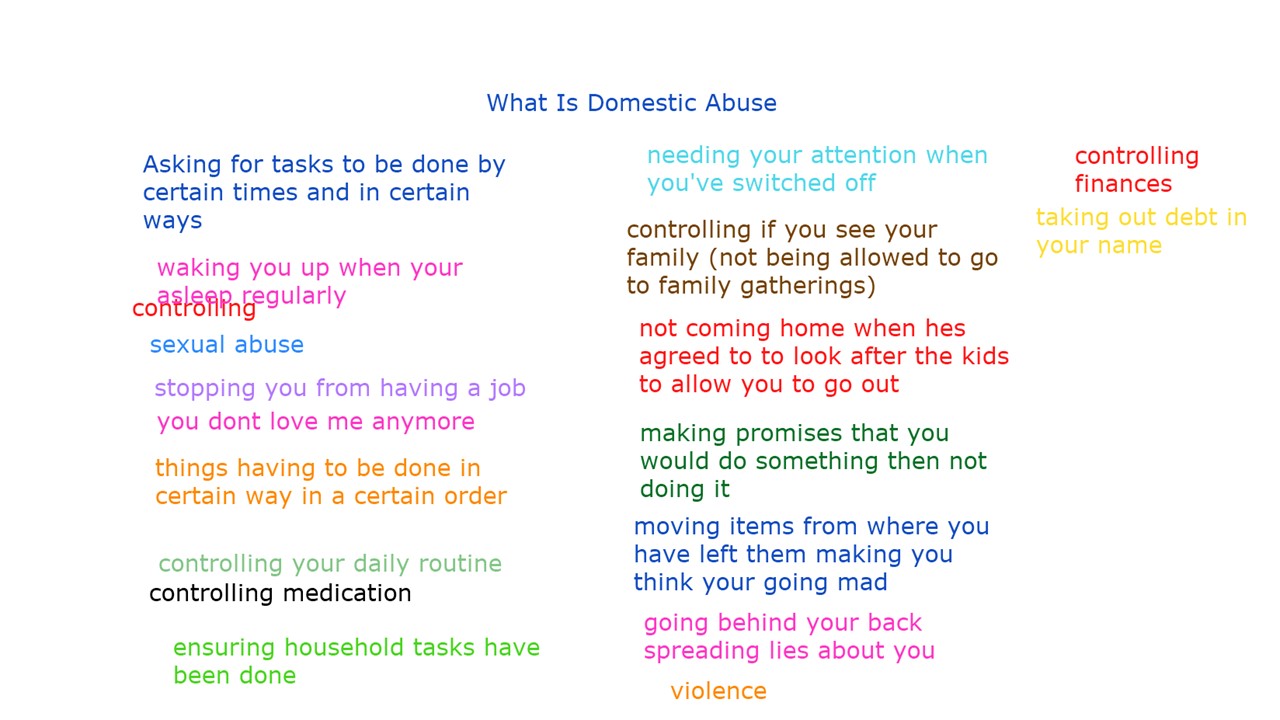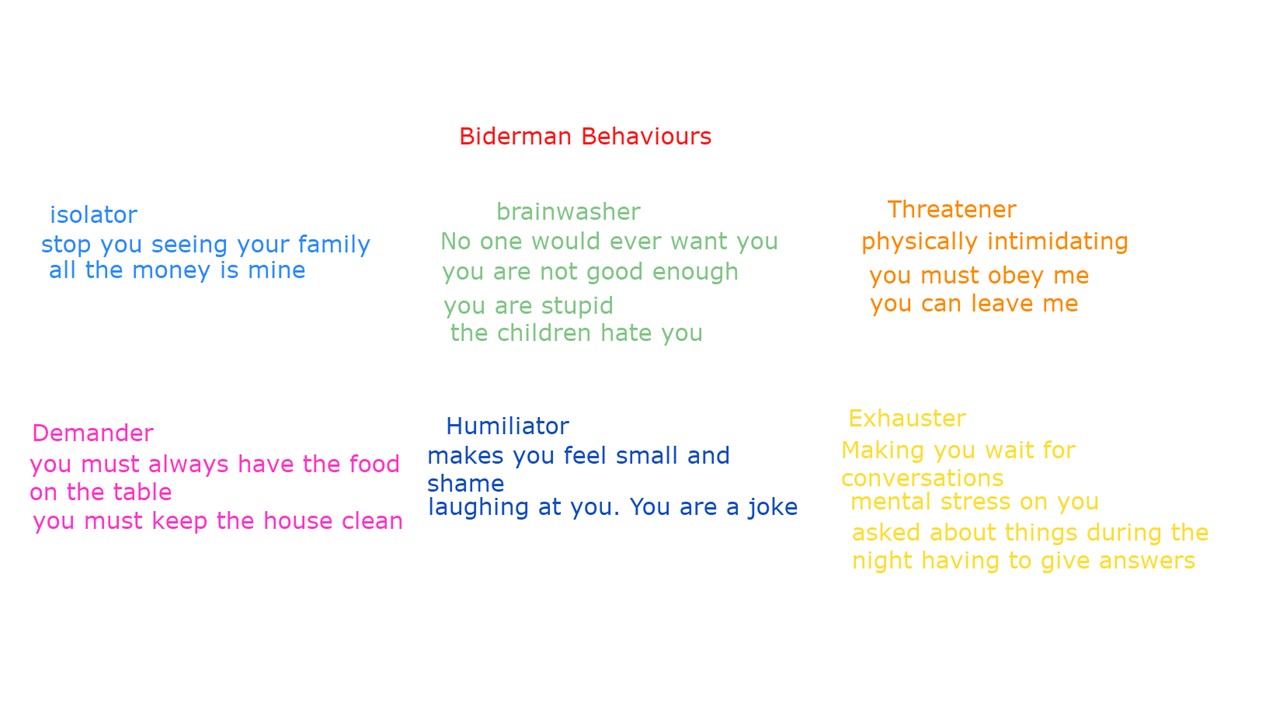 We are also looking to run taster sessions for other professionals to gain an understanding of what the course offers. If you would like to find out more about Own My Life, read our November newsletter to find out more about our next exciting Own My Life plans!
---
CYP SODA
In October, the CYP navigated the sometimes tricky question of the difference between a good secret and a bad secret. For their Minecraft session they came up with the idea to make a Secret Mansion and/or a Giant fruit statue and/or a shop.
We learned that good secrets are usually surprises and are safe secrets. Bad secrets are unsafe secrets that could hurt you or someone else, and should always be shared safely with a trusted adult who can help.
Sometimes its ok to keep a secret, like if its a birthday or something

CYP aged 11
If you have bad secret you can feel scared and worried

CYP aged 9
You should get help

CYP aged 10
Halloween Fun
This Spooky Season saw the Craft Club produce some spooktacular creations! We also had a Halloween party with a quiz, games & mystery packages.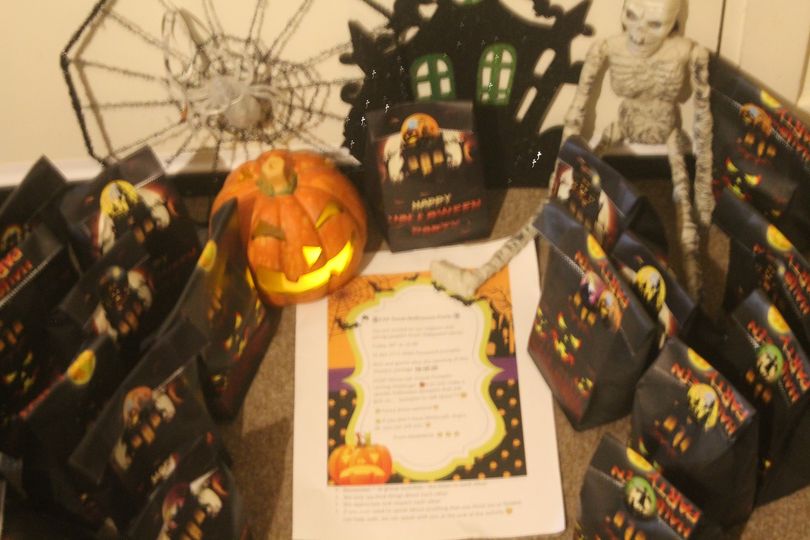 CYP also collaborated to write this fantastic poem about staying safe whilst enjoying Halloween…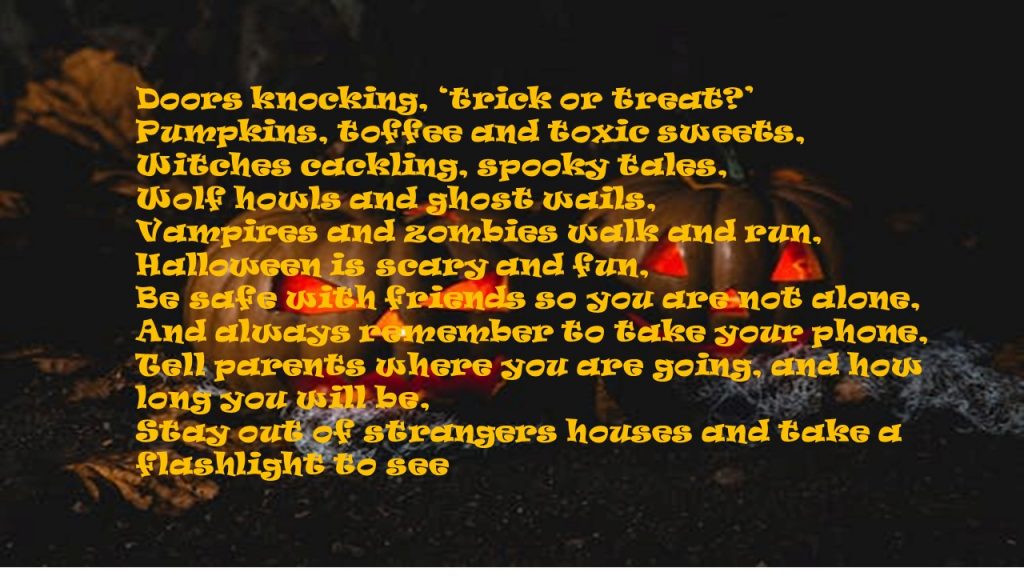 ---
Equal Protection
As of the 7th of November the Children (Equal Protection from Assault) (Scotland) Act 2019 will come into effect. Though it's already an offence to assault a child with an implement, strike to the head or shaking, a parent or carer could use the 'reasonable chastisement' defense. Meaning children did not have the same legal protections as adults in Scotland. There is a lot of evidence showing the harm done to children through physical punishment, as well as the risk of 'minor' physical punishment escalating to abuse.
The new Act: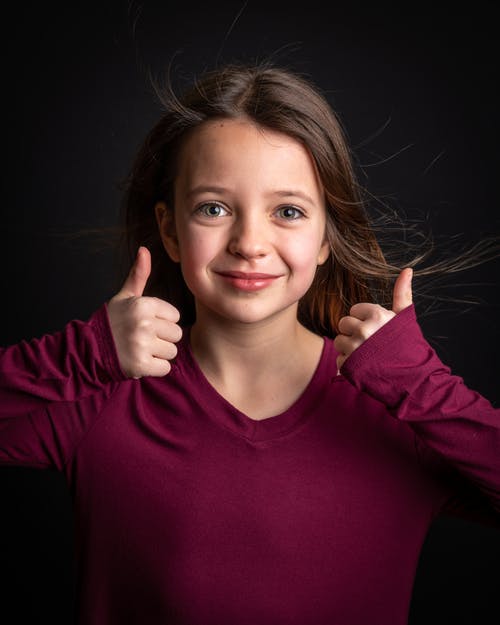 Makes all forms of physical punishment illegal in Scotland
Does not create a new offense, but removes the 'reasonable chastisement' defense
Still allows for concerns of harm to children due to physical punishment to be reported to the police/social work
For support & information on how to tackle difficult behaviour in children calmly, go to https://www.parentclub.scot/articles/coping-with-being-a-parent
---
Contribute with the Co-op
We were thrilled to be chosen as one of Co-op's charitable causes! We'd use any funds raised towards redecorating & refurbishing our refuge flats and support rooms. We're also hoping to transform our garden into a social & beautiful space for our women & families.

If you have a Co-op membership 2p for every £1 you spend on selected Co-op products & services goes into your membership account. Co-op then matches this amount in donations to your chosen cause, you can also chose to donate your rewards.
Follow this link if you'd like to select WAO as your cause.
---
Support for Men
AMIS – Abused Men In Scotland – is a charity for men who have or still are experiencing domestic abuse. Supporting any man in Scotland suffering domestic abuse, AMIS can be contacted in the following ways:
Free and confidential helpline – 0808 800 0024 (9am to 4pm, weekdays)
Email support – support@amis.org.uk
---
For Our Service Users: Monday Mini Meditation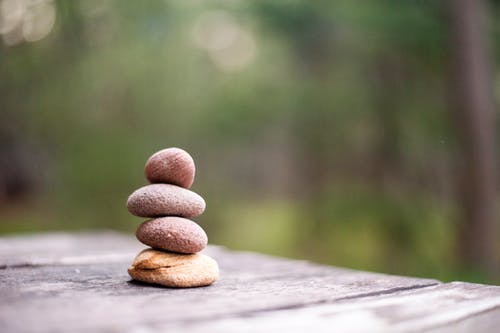 We're pleased to soon be able to be able to offer a 6 week Monday Mini Meditation series. These are simple, easy little meditations for anyone – you don't have to be a fully signed up yogi/Buddhist/hippie/sit crossed leg/live on sprout juice to join in.  Although you can of course do these too!
Anyone who is a current or former service user is very welcome, along with your children if you wish. The following is a flavour of what will be covered though may be subject to change:
Week 1 – Relax – 'Ocean Breathing' followed by a guided meditation
Week 2 – Presence – 'Belly Breathing' followed by a guided meditation
Week 3 – Ground – 'Earth Breathing' followed by a guided meditation
Week 4 – Settle – 'Square Breathing' followed by a guided meditation
Week 5 – Release – 'Fire Breath' followed by a guided meditation
Week 6 – Joy – 'Heart Breathing' followed by a guided meditation
Sessions will take place on Zoom, please contact your support worker for session times & details.
---
Action for Happiness
For the coming month, Action for Happiness is following New Ways November.
You never know what you can do until you try

C.S. Lewis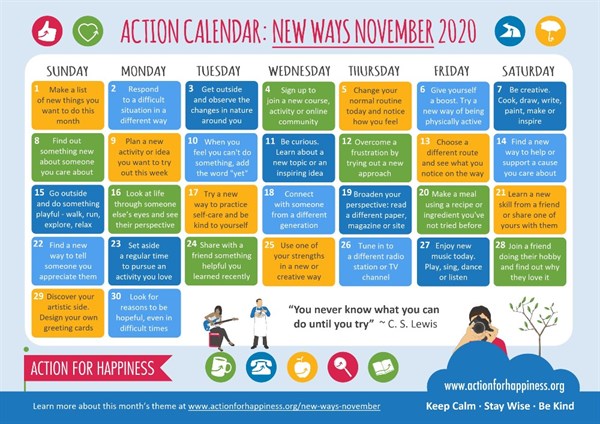 While we can't always influence outside circumstances (hello, COVID!), we can choose the ways in which we overcome. Learning something completely new can really give us a boost. It provides focus and a sense of purpose and accomplishment in what can seem an otherwise frustrating time. Follow the calendar every day or just pick the ones that jump out to you and build your resilience & confidence in November.
---
Special Thank You…
Our Service Co-ordinator, Morgan: markswoman trouble-shooting skills and securing much-appreciated donations
Louise Johnson  National Worker- Legal Issues, Scottish Women's Aid: always offering her expert knowledge and great support
Alistair Carmichael MP: supporting us in addressing the issue of complex economic abuse
Judith & Michelle at OIC Benefits department : their support and prompt response to a family in financial distress
The telephonists at OIC: who are always so friendly and helpful
Dominic Reed and Scotland in lockdown survey for Amazon vouchers: for cyp to take part in the online stories page https://scotlandinlockdown.co.uk/
To our CYP: making the Halloween activities such fun and a hoorah to them all for holding up through tough times!
Susie Dalton Children and Young People's Policy Officer: who is passing on our feedback to the SGov's consultation on the new National Child Protection Guidance
Orkney Food Bank: invaluable & much needed service, always so helpful and going above & beyond
Kirkwall Post Office: for being so very patient when we're sending away many, many packages for CYP and service users
The Co-op: for providing much appreciated support
The Team: for all the imaginative activities they have been doing with service users
A big thank you to the Board for their support & a good bye to Mim who is stepping down at the AGM. Your support has been so valued & appreciated, thank you, Mim!