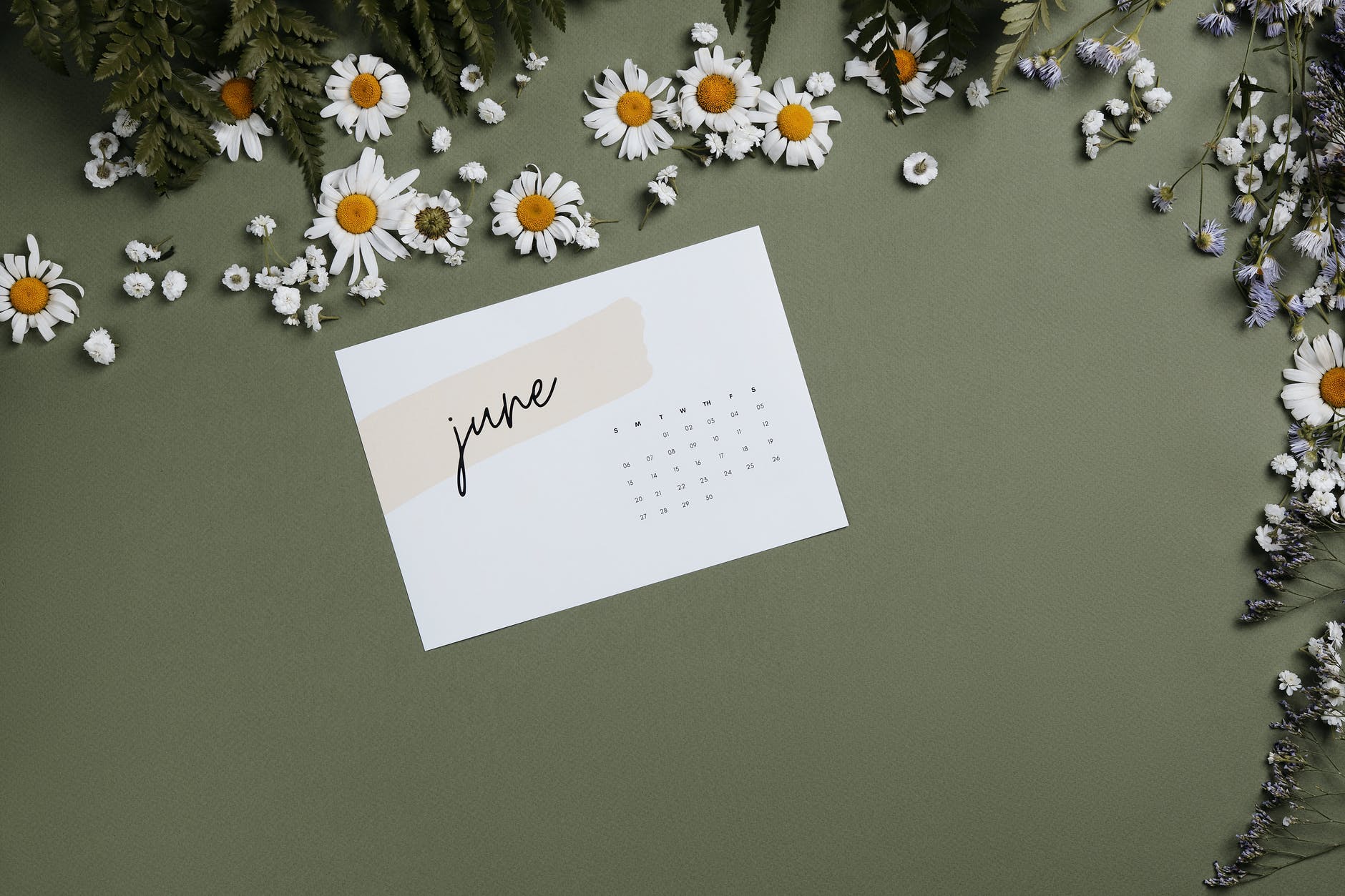 Welcome to Women's Aid Orkney's June Newsletter.
Service User's Feedback & Achievements
Looking after themselves during a difficult time.
"I can do anything!"
Transition to KGS – feeling nervous but showing courage and managing the nervous feelings.
Reaching out for support.
"I feel like I'm really making progress towards having a clean slate"
Starting a new job after relocating.
Starting a new school and making friends.
Seeing a relationship for what it was really was and realising that person no longer has any power over them.
Continuing to use her network for support.
"when I was totally lost and my world was just turned upside down , your help & Women's Aid in general was what got me through. I dread to think what my life would've been like without your help".
Recognising a coping mechanism was not supportive and taking steps to stop.
Stating and re-enforcing her boundaries when under pressure not to.
" My son said he didn't know how he'd have gotten through the year without the support from his CYP worker"   
WAO Online Shop
We are delighted to announce that our online shop is now live!
Our first sale is a collection of second hand Radley handbags and purses in amazing condition. All proceeds will go to Women's Aid Orkney. https://womensaidorkney.org.uk/shop/
Keep your eyes peeled on our Facebook page to see any new releases in the shop – https://www.facebook.com/womensaidorkney
If you have any special pieces you would like to donate to our online shop, please email info@womensaidorkney.org.uk We would be delighted to discuss items, due to our space, we won't be able to take larger pieces like prams and furniture.
Soup Group
WAO Soup Group is returning!
Soup, scones or sandwiches! Join us to make a scrummy lunch and then all sit down to enjoy and chat. If the weather is nice, we may even have lunch in the garden!
The soup group will be happening once a month, on the first Tuesday of the month, to begin with, please get in touch to find out more or let us know if you plan to come. The first session will be happening on Tue 5th July.
Children & Young People Support Worker Post
An exciting job opportunity has arisen at WAO, please get in touch to find out more or request a recruitment pack by emailing recruitment@womensaidorkney.org.uk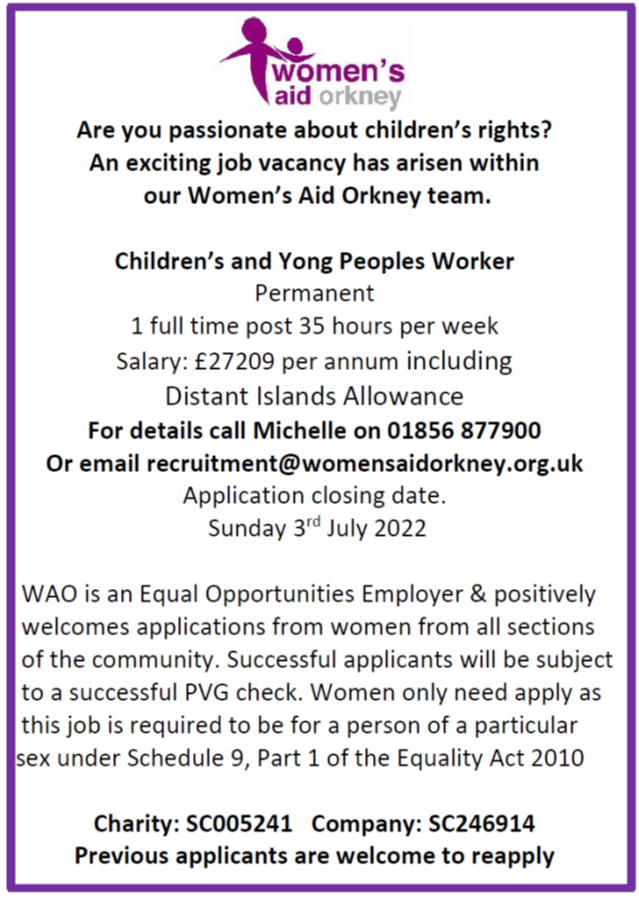 Family Forward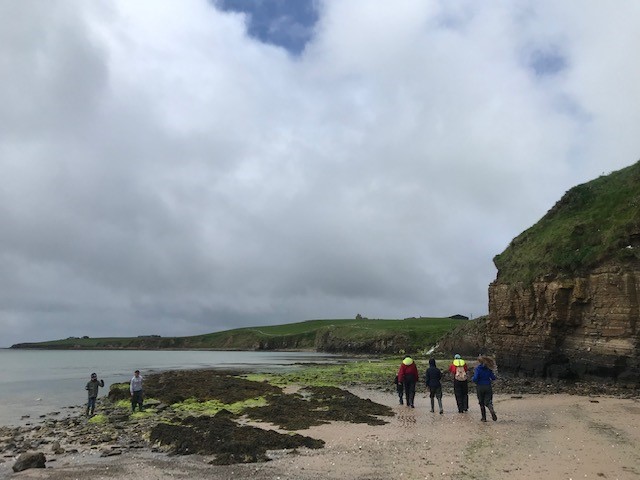 The Family Forward Service has had a busy start to the Summer with all their different group outings. They have held a couple of beach BBQs and attended the Sea Watch Foundation family fun day. Family Forward have even more exciting plans for the Summer, including bus trips to various locations around Orkney for picnics and trips to some of Orkney's attractions. 
The Family Forward families have really been enjoying meeting one another at the group activities, and are looking forward to doing more over the Summer. 
"I had such a good time and I felt really comfortable with everyone "

Family Forward Young Person
" The kids love the bbqs, and they've enjoyed playing the outdoor games with everyone so much that we've had to go out and buy some games equipment now!"

Family Forward Mum
Family Forward are joining in partnership with the Community Learning and Development team from OIC and Active Schools Orkney to visit some of the other islands this summer, where they will be hosting picnics and beach games for any families who would like to attend!  These picnics will be held in Westray on the 7th July , in Sanday on 12th July, and in Stronsay on the 2nd August – further details of these events will be advertised locally by CLD.
If you or anyone you know would benefit from support from the Family Forward Service then do get in touch by emailing – info@womensaidorkney.org.uk You can find out more about the service on our website – https://womensaidorkney.org.uk/the-family-forward-service/
Huge Thank You to Mind On
We are delighted to have received a very generous grant from Mind On and would like to say a huge thank you to the Board, Staff, Volunteers and everyone who uses the shop. All the money Mind On raise in their shop in Kirkwall stays in Orkney and supports numerous different local charities and groups.
WAO & Amazon Smile
If you shop Amazon Prime Day deals on 12 & 13 July, Amazon will double donations: Simply shop with AmazonSmile ON in the Amazon Shopping app or at smile.amazon.co.uk/ch/SC005241, and AmazonSmile donates to Women's Aid Orkney. It's easy to set up, costs you nothing extra and makes a huge difference for us.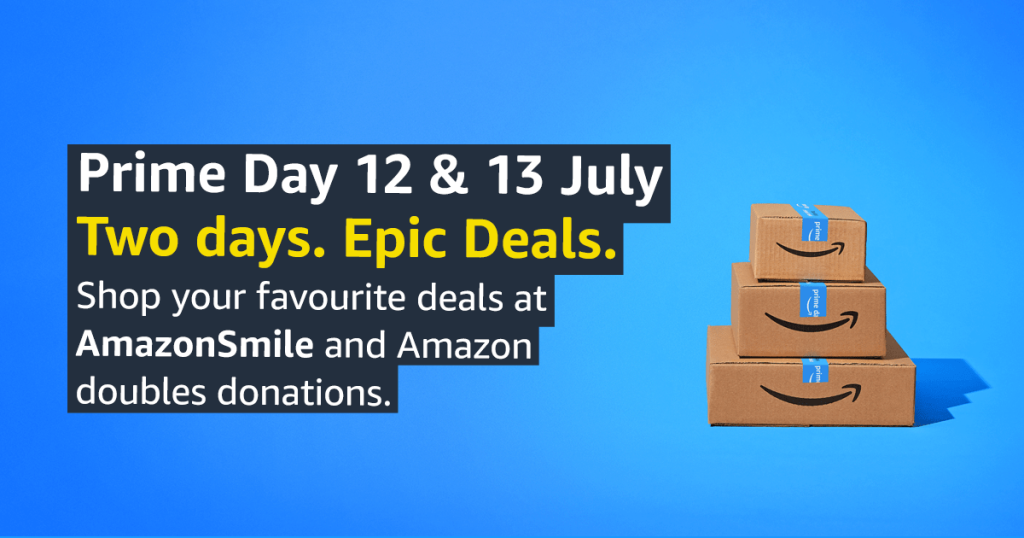 WAO Staff – Feel Good Films
We have been discussing this month, what films make us feel good. From oldies to new, musicals to documentaries, everyone has a different feel good film. here are some of ours –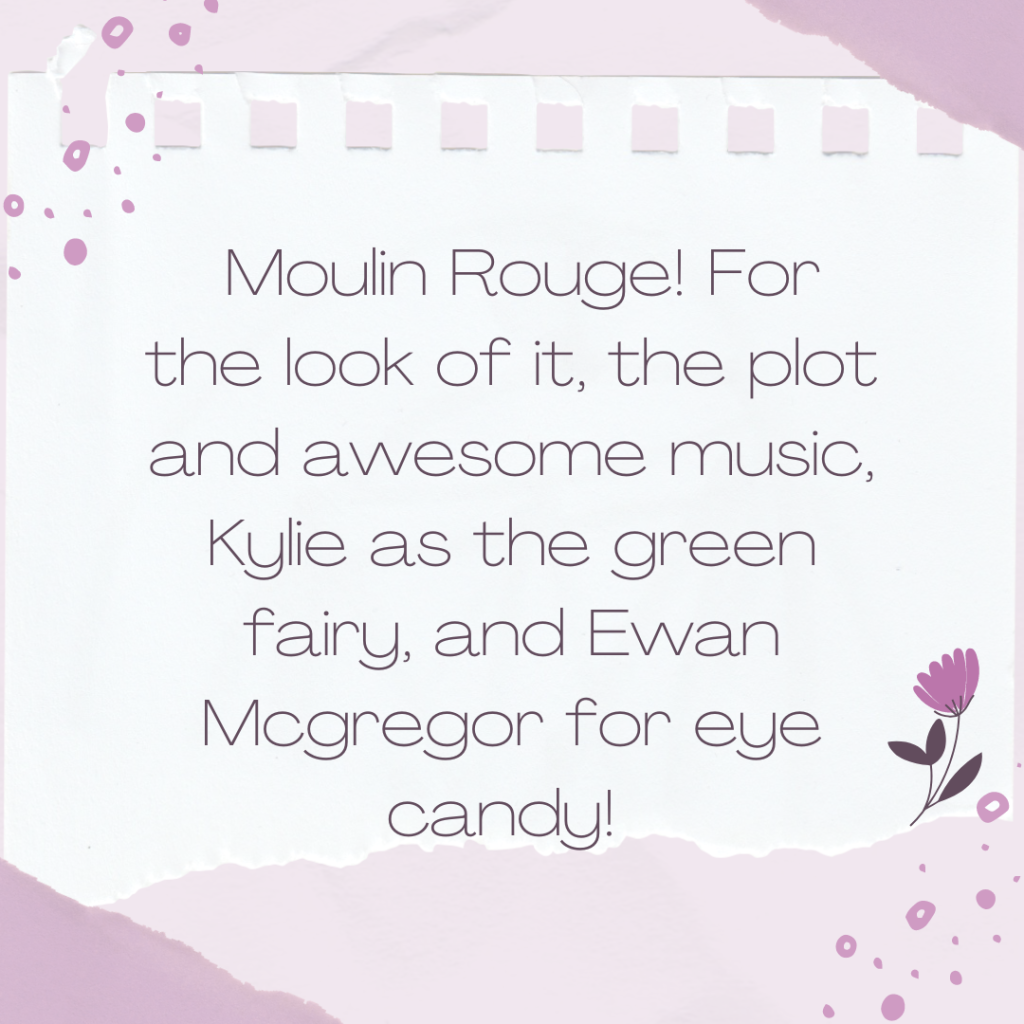 Poem to Skye
Action For Happiness – Jump Back Up July
In Action for Happiness' July Calendar, they are looking at ways to bounce back.
Do not judge me by my success, judge me by how many times I fell down and got back up again.

Nelson Mandela
Back off Scotland
The United States Supreme Court has chosen to overturn the landmark court case ROE v WADE (1973) which protects the right to choice when it comes to abortion. This is a huge decision and will effect Women's autonomy over their bodies. Women's Aid Orkney wants to support Women's rights and choices.
Back Off Scotland started in 2020 to campaign for the Scottish Government to introduce harassment and intimidation free areas around clinics that provide abortion services across Scotland. They have held a summit on abortion care in Scotland, where Nicola Sturgeon chaired the event. They are advocating on behalf of all women in Scotland, with the hope Scotland will never be influenced by America's anti-abortion values. Below is a link to their website and petition, where you can show your support and help them evidence to The Scottish Government that change is needed.
https://www.backoffscotland.com/national-petition
Getting Help
999 silent call service: Make Yourself Heard if you are in danger and unable to talk, dial 999 from a mobile phone and press 55 – this will transfer your call to the police.
Shakti Women's Aid helps BME women, children, and young people experiencing, or who have experienced, domestic abuse
Imkaan is a UK women's organisation dedicated to addressing violence against BME women and girls.
Southall Black Sisters offer specialist support, advocacy and information to Asian and African-Caribbean women suffering abuse.
Opoka provide a national helpline for Polish women living in the UK.
Trafficking Awareness Raising Alliance (TARA) provide support to women who may be trafficked and exploited
Contact your local Women's Aid: Women's Aid Orkney 01856 877900 or info@womensaidorkney.org.uk
Contact Refuge: 24hr helpline 0808 2000 247, www.nationaldahelpline.org.uk (access live chat Mon-Fri 3-10pm), or send a message from using their contact form
Confide in a friend, family, colleague, someone you trust for support & help
Always contact the police in an emergency for free on 999 or 101 for non-emergency
National Stalking Helpline – https://www.suzylamplugh.org/refer-someone-to-us
As we say farewell to this years Pride Month, we hope June has brought you lots of love and celebration to our friends in the LGBT+ Community.
Below is a link to some of the resources available through Galop, a charity that supports LGBT+ people who have experienced abuse and violence.
https://instagram.com/galopuk?igshid=YmMyMTA2M2Y=
Special Thanks …
The amazing group of girls at Stromness Academy that chose WAO for their YPI charity and secured £3,000. They did an incredible job with their moving presentation.
Huge thank you to Ingrid Budge, who did a fantastic workshop at Roosa.
The Police for their rapid response.
Huge thank you to Leila Dearness for a beautiful session with Roosa.
Thank you to everyone who has phoned us over the past few weeks and been patient with us while we learn to use our new phone system.