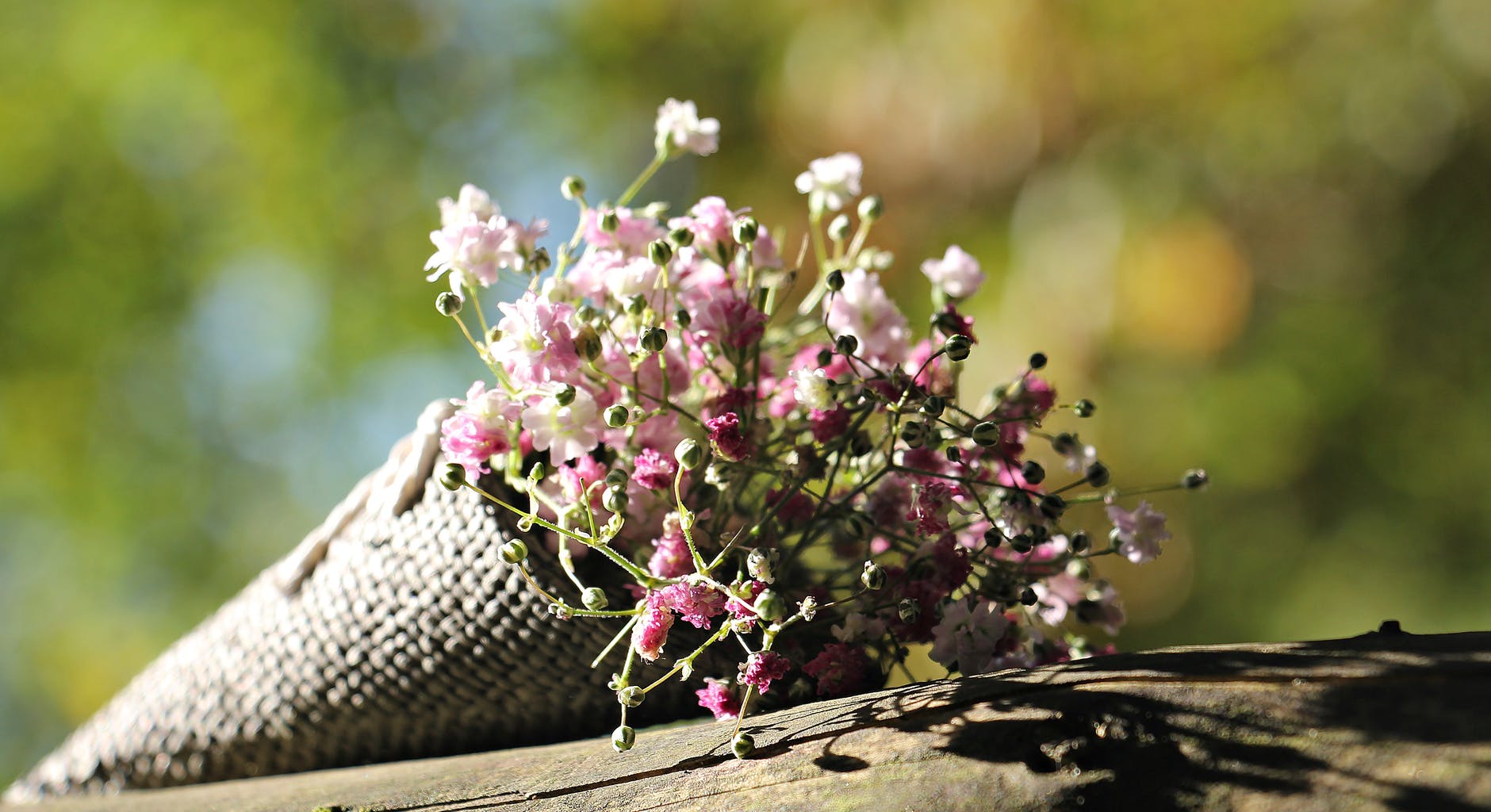 Welcome to Women's Aid Orkney's May Newsletter.
Service User's Feedback & Achievements
Stopped smoking.
Organising complicated logistics to begin a better life for her & her family.
"You helped me enormously! Thank you so much. I am absolutely grateful for your proactive energy. I have a greater sense of freedom and space. Sending you all brilliant wishes and continued success in your work with WAO. Orkney is lucky to have you put your energies towards uplifting women."
Making a police statement despite high anxiety and in doing so helping other women.
Not giving up despite the challenges.
"Thank you again for all of your help and support over these past couple of weeks you really helped me to get the confidence I needed to do the right thing!"
Continuing her journey of self-discovery despite feeling daunted at times.
Completing their 12 week Own My Life course and now creating an Own My Life follow on group.
"Thank you so much for helping me. Hearing this has made me feel as though all the stress was worth it. I just wish I could have done it sooner!"
Returning to work.
OML participants "Thank you for our amazing gifts bags and journals, they've been a wonderful surprise"
Holding on for better days and keeping going when things got really hard.
Women's Service
69 Active cases
CYP Service
39 Active cases
Roosa – What's On…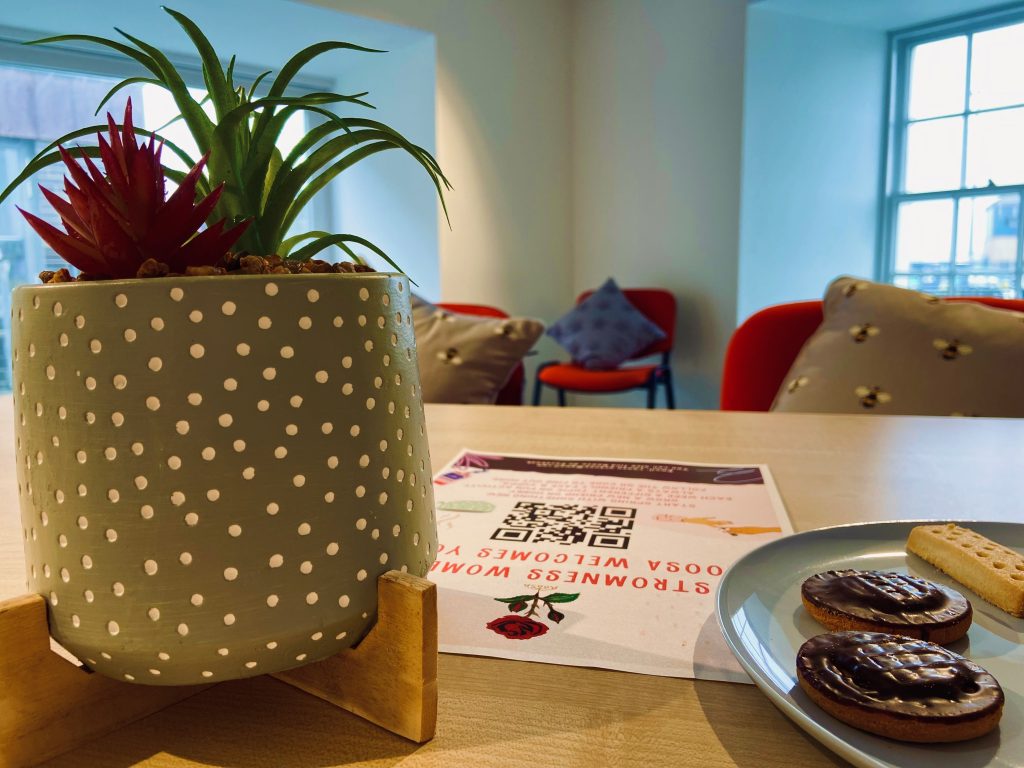 Roosa have been busy offering some wonderful sessions at the Stromness Library. In their first month they have had a bingo and quiz morning and a wonderful session with Adele from Yoga Orkney.
Adele has also very kindly shared some of her free classes with us for everyone to enjoy, please find them in the link below.
https://www.yogaorkney.com/online-videos
Upcoming sessions include, Adelle from the Dearness Distillery discussing how it feels to be a woman in business today and making a dream a reality, Leila Dearness will be taking a crafty workshop and Ingrid Budge will be taking a creative photography workshop by using light sensitive paper and flowers. 
And lots more exciting opportunities still to be confirmed.
Roosa is on every Monday at the Stromness Library, 10:30am – 12:30pm. All women are welcome, you can find out more information on our Facebook page – https://www.facebook.com/Roosa or on our website – https://womensaidorkney.org.uk/roosa/
If you would like to talk to someone about Roosa you can email – roosa.orkney@gmail.com
Poem to Skye
Phenomenal Women By Maya Angelou
Pretty women wonder where my secret lies.
I'm not cute or built to suit a fashion model's size
But when I start to tell them,
They think I'm telling lies.
I say,
It's in the reach of my arms,
The span of my hips,
The stride of my step,
The curl of my lips.
I'm a woman
Phenomenally.
Phenomenal woman,
That's me.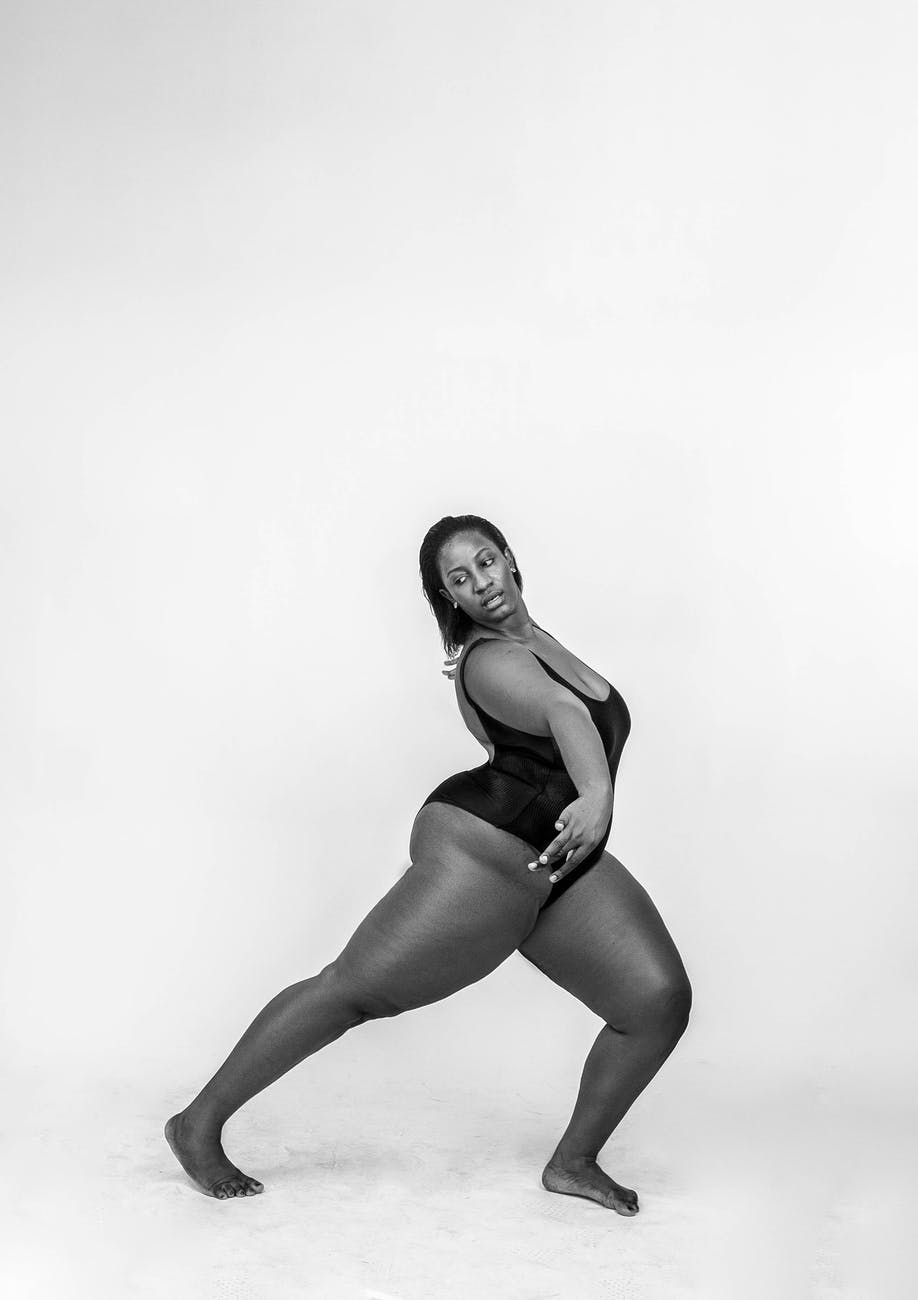 I walk into a room
Just as cool as you please,
And to a man,
The fellows stand or
Fall down on their knees.
Then they swarm around me,
A hive of honey bees.
I say,
It's the fire in my eyes,
And the flash of my teeth,
The swing in my waist,
And the joy in my feet.
I'm a woman
Phenomenally.
Phenomenal woman,
That's me.
Now you understand
Just why my head's not bowed.
I don't shout or jump about
Or have to talk real loud.
When you see me passing,
It ought to make you proud.
I say,
It's in the click of my heels,
The bend of my hair,
the palm of my hand,
The need for my care.
'Cause I'm a woman
Phenomenally.
Phenomenal woman,
That's me.
Men themselves have wondered   
What they see in me.
They try so much
But they can't touch
My inner mystery.
When I try to show them,   
They say they still can't see.   
I say,
It's in the arch of my back,   
The sun of my smile,
The ride of my breasts,
The grace of my style.
I'm a woman
Phenomenally.
Phenomenal woman,
That's me.
Women's Aid Orkney Board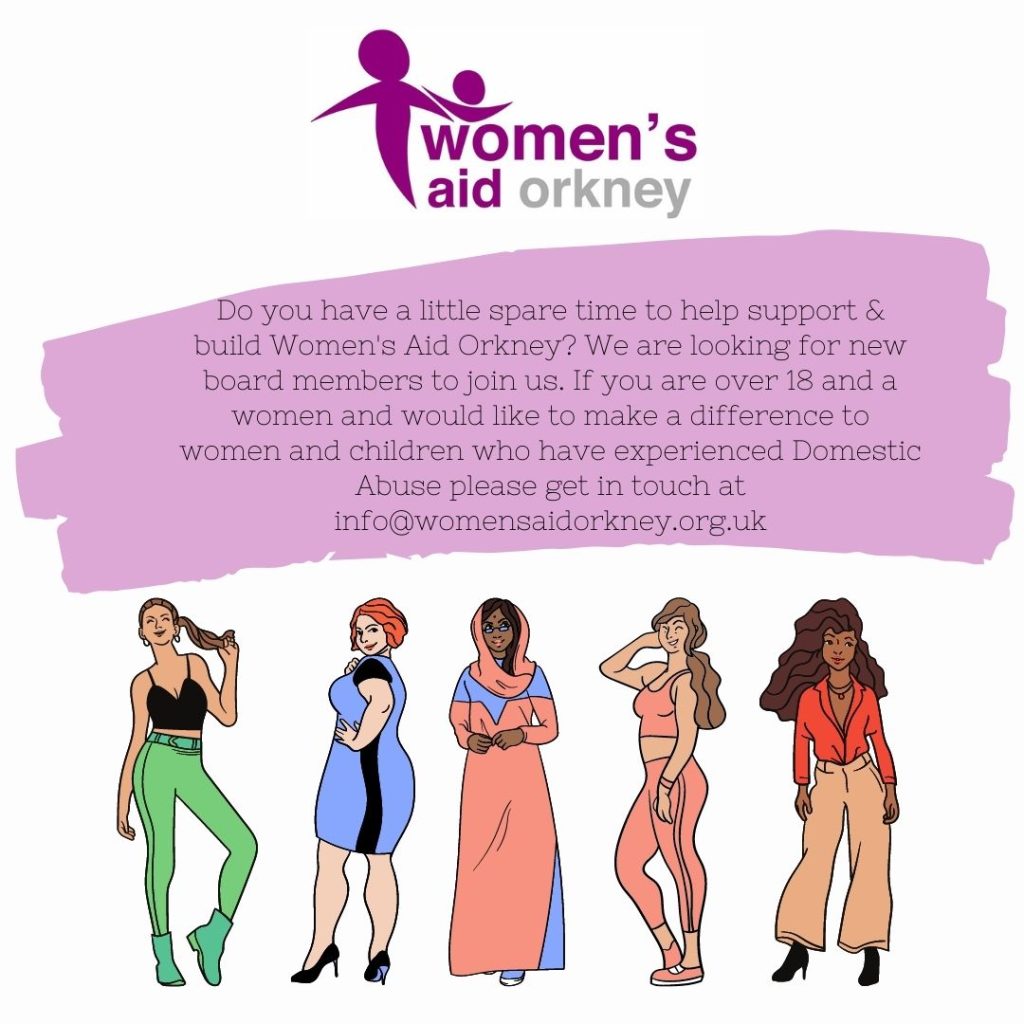 Have you ever wondered about being on a board? Would you like to support Women's Aid Orkney and help it grow?
We are looking to expand our board and add to the already diverse group of women that help and support WAO. If you would like to find out what is involved in being a board member please get in touch, we'd be delighted to speak with you. Please email – info@womensaidorkney.org.uk
WAO Staff & Self-Care
Some of our staff have shared what helps them relax. It's important to take some time to look after yourself, maybe you share some of our relaxation techniques or can be inspired to try one.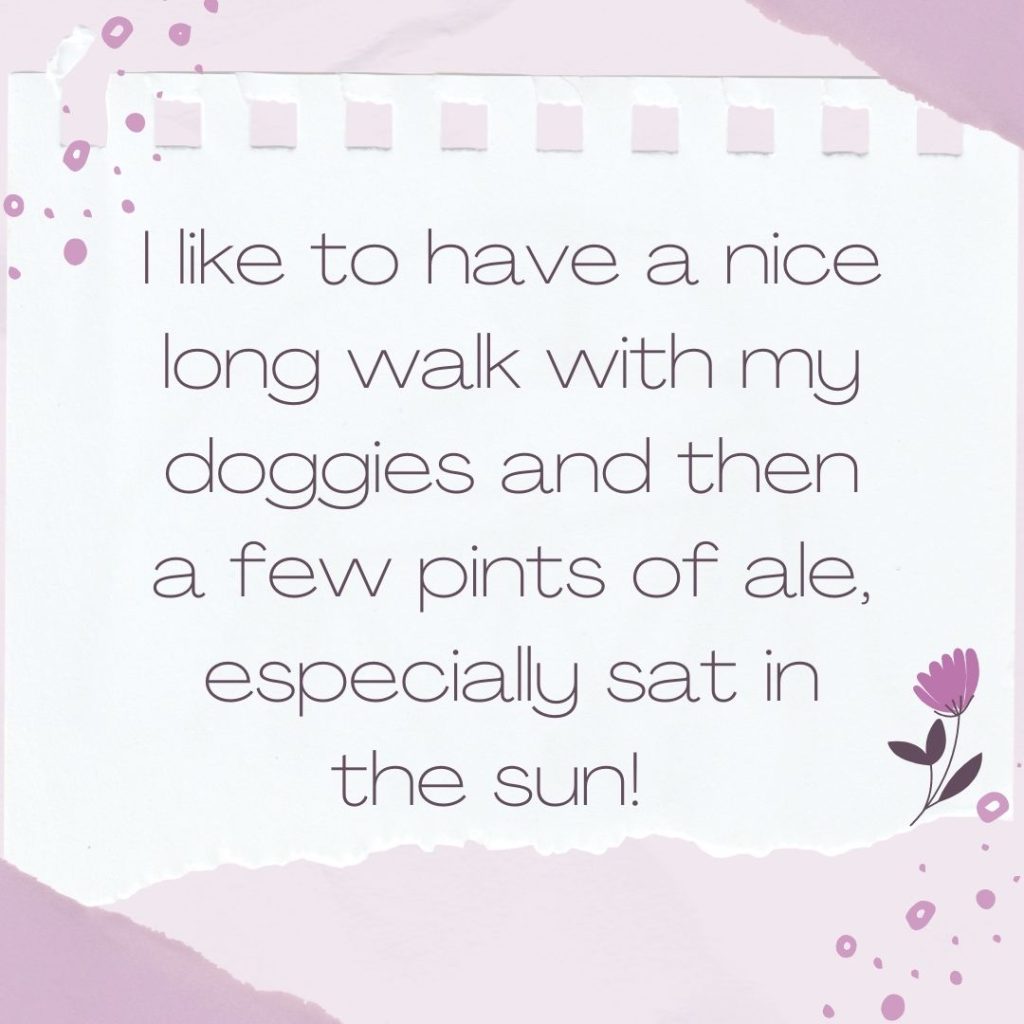 Action for Happiness – Joyful June
Let's look for what's good!
Every day may not be good, but there is something good in every day.

Alice Morse Earle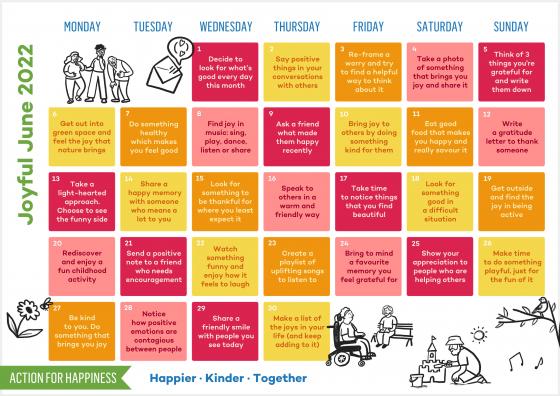 Getting Help
999 silent call service: Make Yourself Heard if you are in danger and unable to talk, dial 999 from a mobile phone and press 55 – this will transfer your call to the police.
Shakti Women's Aid helps BME women, children, and young people experiencing, or who have experienced, domestic abuse
Imkaan is a UK women's organisation dedicated to addressing violence against BME women and girls.
Southall Black Sisters offer specialist support, advocacy and information to Asian and African-Caribbean women suffering abuse.
Opoka provide a national helpline for Polish women living in the UK.
Trafficking Awareness Raising Alliance (TARA) provide support to women who may be trafficked and exploited
Contact your local Women's Aid: Women's Aid Orkney 01856 877900 or info@womensaidorkney.org.uk
Contact Refuge: 24hr helpline 0808 2000 247, www.nationaldahelpline.org.uk (access live chat Mon-Fri 3-10pm), or send a message from using their contact form
Confide in a friend, family, colleague, someone you trust for support & help
Always contact the police in an emergency for free on 999 or 101 for non-emergency
National Stalking Helpline – https://www.suzylamplugh.org/refer-someone-to-us
Special Thanks…
Thank you to Stromness Library for supporting Roosa – a fun, social group for women in Stromness.
Ashley & The Dogs Trust Freedom Project for helping a woman & her family start a better life.
WAO have been down a few staff members this month due to illness, Chelle would like to give a huge thank you to the team for pulling together during a very difficult time.
Thanks to Adele from Yoga Orkney for a wonderful workshop for Roosa.
Louise, SWA legal team, for providing advice that put a SU more at ease.