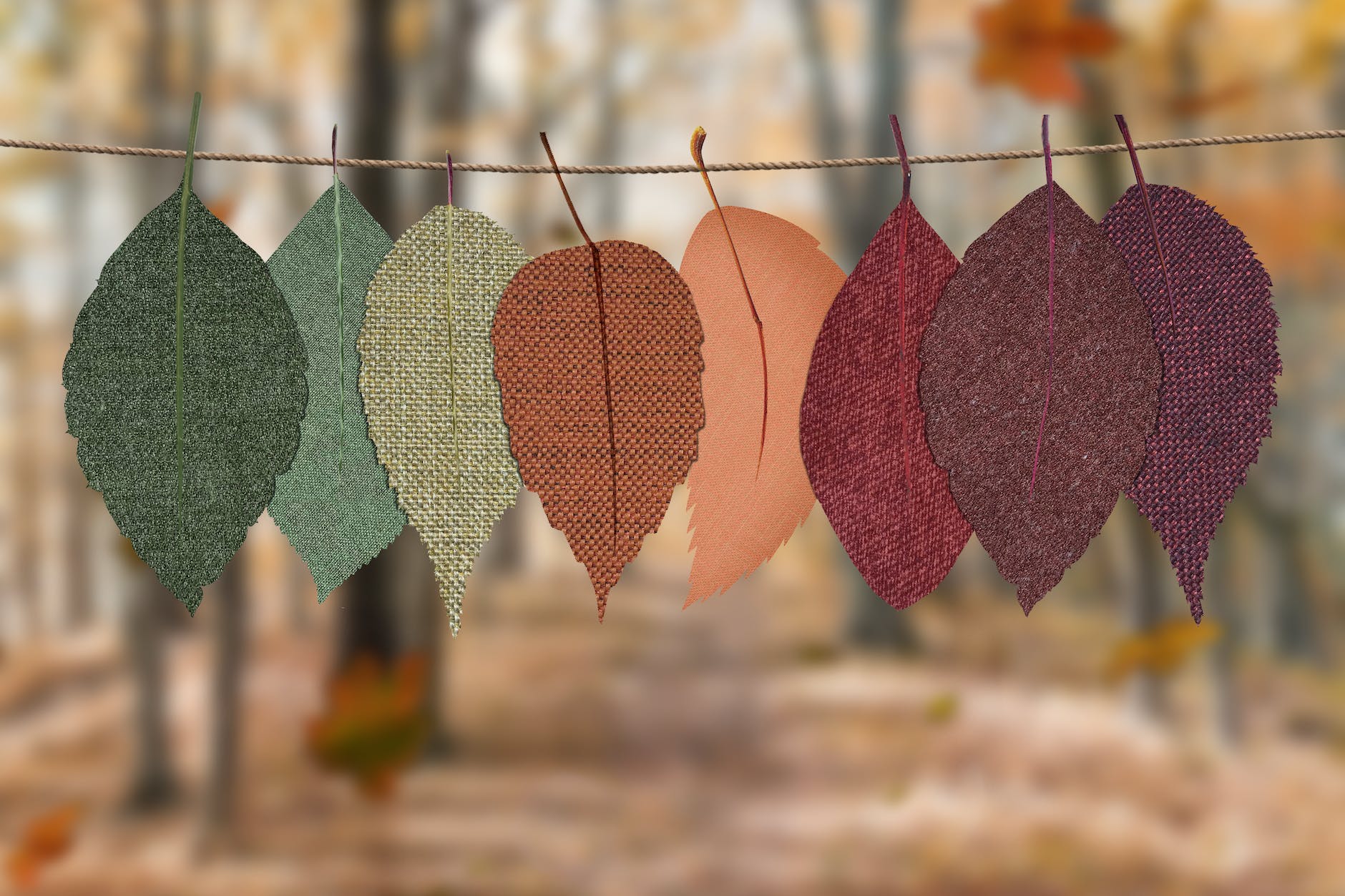 Hello and welcome to Women's Aid Orkney's Autumn Newsletter.
SERVICE USER'S FEEDBACK & ACHIEVEMENTS
'I think it's a beautiful thing you offer a confidential space just for the children'
Setting up her own home for her and her family
'Thank you so much for all of your support at such as stressful time.'
Getting a new job.
'I feel safe talking to you'
Refusing to be bullied anymore and following through on a complaint, which she would never have done before.
'Everyone is different aren't they? And that's okay' – 6 Year old CYP
Moving into a new home.
Start college and another gain independence.
Completing support due to being a good place and feeling like she's coping better with stress now.
Currently Supporting 92 Women
Currently supporting 50 Children & Young People
Currently supporting 14 families
Women's Aid Orkney on Radio Orkney
Jayne Savile – Smith from the Orkney Partnership for Action Against Gender Based Violence and Abuse spoke on Radio Orkney on Tuesday 29th August 2023. Jayne spoke about the work being carried out with the Partnership and Women's Aid Orkney, to help support and raise awareness of domestic abuse and women over 60. Women's Aid Orkney will be delivering training with orkney Health and Care to deliver a three day session with all care home staff.
During the interview a service user from our Women's Service spoke very openly about her experience.
The coverage starts at about 7.15.
https://www.bbc.co.uk/sounds/play/m001qfyl
WAO's Table top sale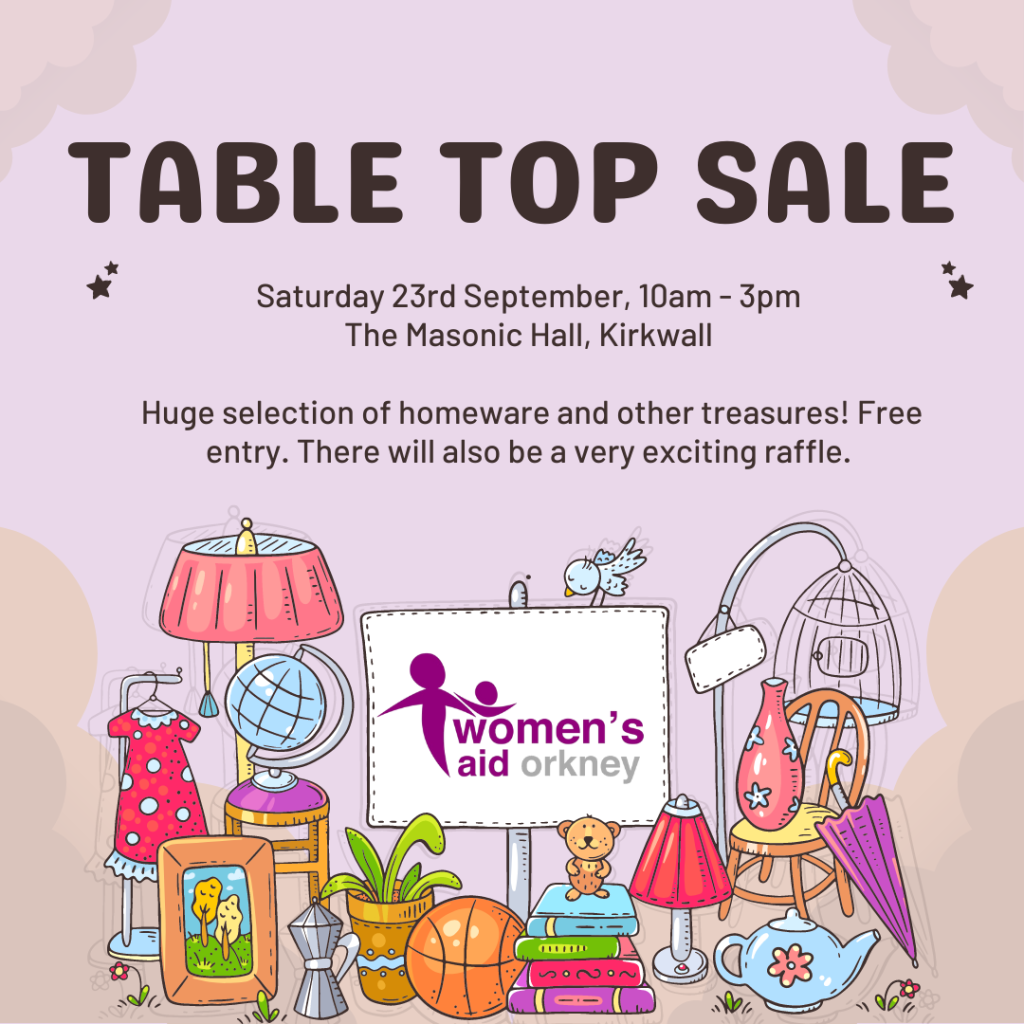 Women's Aid Orkney will be hosting a table top sale on Saturday 23rd September at The Masonic Hall, 10am – 3pm.
We will also have a very exciting raffle with fabulous prizes to be won. Tickets will be a £1 a strip and only available at the table top sale. Please see some of our amazing prizes below.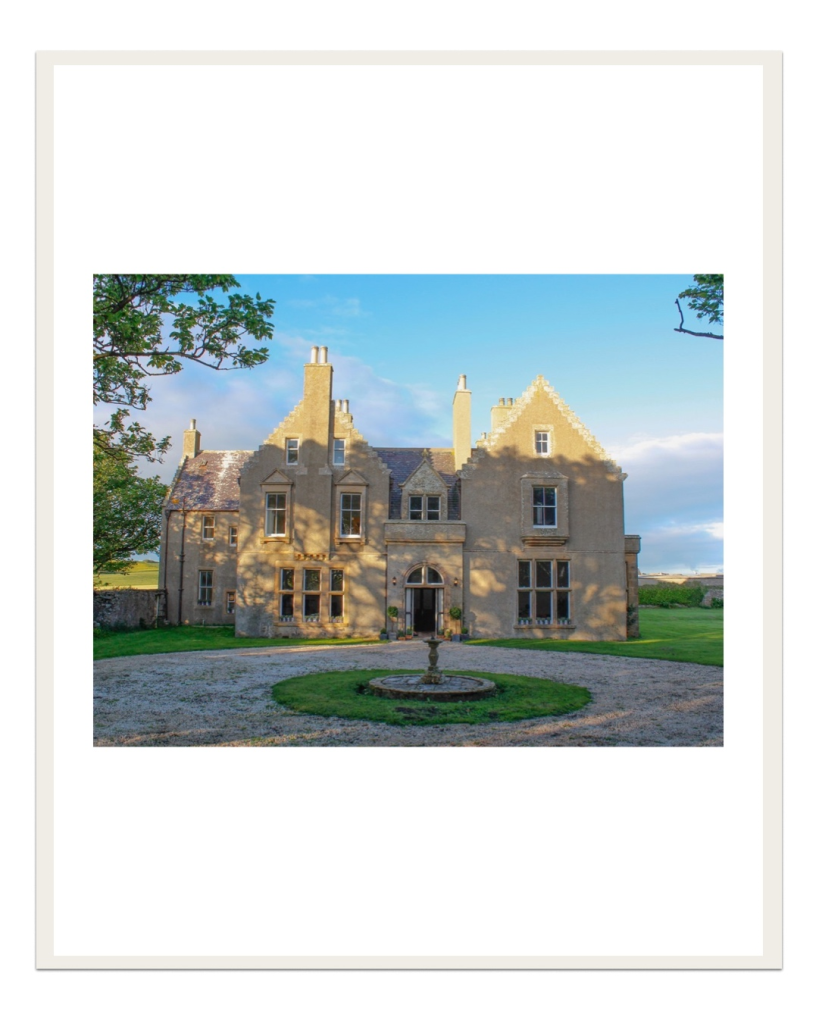 The Peedie Ponies Project
Our family service Family Forward have had a busy summer of fun activities!
In addition to some great days out visiting play parks, having picnics and lots of fun at beach BBQs, our families also had the chance to visit the Hilltoft Peedie Ponies for some riding sessions. This was only made possible due to the generosity of many of you who donated to this project online, as well as many local shops and businesses who kindly took in donation tins for their customers to donate. The pony sessions were really popular amongst our families, and we've had some lovely feedback letting us know how much it has meant to some children and families. The sessions with the ponies start with the children meeting their own pony and grooming them and fitting the tack, before setting out on a ride.
One mum was delighted that her son was gently encouraged to meet the ponies and even eventually tried a ride, despite being scared and unsure at first. She was so proud of him for trying and couldn't wait to tell the whole family, who were equally delighted that he had been able to relax and be in the moment on the ride!
Another mum's feedback to us about how being around the ponies had helped her daughter to relax and her daughter had told her it helps her to feel calm, and another family really appreciated the chance to spend time all together and told us they will have great memories from this and it will be something to remember forever as a family.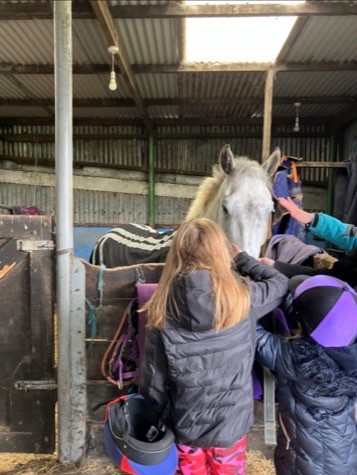 A Poem from a Women in our service
Charm, friendship, love
A girl's heart desire,
The blossoming love,
Gifts in abundance,
Flowers, new clothes, a haircut too.
Time spent with him,
You don't need your friends,
Your family don't need you,
You're his, now, forever.
You leave your job,
It's not worth the risk,
If you are late,
Who have you been with?
A shout, a slap,
It's only the once.
You're not doing it right,
He will show you,
With a fist.
A swollen belly,
Baby is due,
You can't eat tonight,
The reward is not due.
To the bedroom you go,
He wants his fill.
The protest is made,
He is always obeyed.
A new baby is here,
A heart filled with love,
Don't breast feed that child,
Your body is his,
It cannot be shared.
Get to work,
He has found you a job,
He will work there too,
To show that you're his,
You sit alone,
You are late each day.
No one picks up,
On the pain that you feel.
I can't come in today,
I don't tell them why.
I'm afraid to say,
He's also away.
With baby in arms,
Number two on the way,
He hit me so hard,
I had to run away.
The police came out,
They took him away,
Here is my chance,
I am free, till next day.
Why can't I leave him,
I know that I must,
But he keeps me here,
I am his.
It must be my fault,
I must try harder.
I must make sure,
Everything is in order.
Baby is here,
I'm feeling stronger.
I won't let this man,
Torture me, any longer.
I find him a bedsit,
I pay his first rent,
He returns home from work,
His bags are all packed.
With my friend by my side,
He leaves me,
He is out.
I lock all my doors,
And I now start to weep.
How will I manage,
How will I cope,
I need this man,
I love him so much.
No one to tell me,
What I should do,
No one to teach me,
A lesson or two.
I miss this man,
No one to help me,
I must do this alone,
Today I am married,
With memories of pain,
There is light,
I can see it,
With Women's aid,
My life, it's now mine.
By Teresa
A survivor.
SUPPORTING WAO
We have a WAO Wish List on Amazon, if you would like to send us something, we would be incredibly grateful & it could really make someone's day. https://smile.amazon.co.uk/…/ref=nav_wishlist_lists_1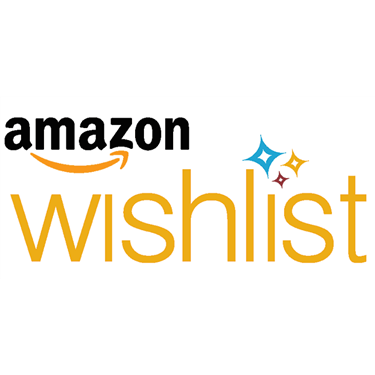 GETTING HELP…
999 silent call service: Make Yourself Heard if you are in danger and unable to talk, dial 999 from a mobile phone and press 55 – this will transfer your call to the police.
Shakti Women's Aid helps BME women, children, and young people experiencing, or who have experienced, domestic abuse
Imkaan is a UK women's organisation dedicated to addressing violence against BME women and girls.
Southall Black Sisters offer specialist support, advocacy and information to Asian and African-Caribbean women suffering abuse.
Opoka provide a national helpline for Polish women living in the UK.
Trafficking Awareness Raising Alliance (TARA) provide support to women who may be trafficked and exploited
Contact your local Women's Aid: Women's Aid Orkney 01856 877900 or info@womensaidorkney.org.uk
Contact Refuge: 24hr helpline 0808 2000 247, www.nationaldahelpline.org.uk (access live chat Mon-Fri 3-10pm), or send a message from using their contact form
Confide in a friend, family, colleague, someone you trust for support & help
Always contact the police in an emergency for free on 999 or 101 for non-emergency.
SPECIAL THANKS…
Thanks to the Molly Lind Foundation.
Thank you so much to Ronella Macinnes from Therapet, and Karen with her beautiful golden retriever and good girl, Willow!
Anne at CFSW for great partnership working.
A big thanks to SHAKTI for being so helpful and supportive to us when we are seeking advice on complex situations.
Huge thank you to all the shops / businesses that took the donation tins for our Peedie Ponies Project.
Alec & the Salvation Army for providing starter packs for women and families moving into their first safe housing, providing the basics to help them start their new lives.
A big thank you to the Yard Nursery and CLD team who put on a great day at the Family Funday Sunday in July.
Inga at OIC housing for being so sensitive and helpful in keeping a family safe.